Eyeglasses and contact lenses are cumbersome in certain lifestyles, such as swimming, athletics, the military or law enforcement. We understand the fear that comes along with eye surgery. Our Doctors of Optometry have entrusted the eyes of numerous patients to the expertise of Doctor Andrew Holtzman and the team at TLC. TLC is the leader in laser vision correction and has helped guide thousands of patients to clearer vision over our 20 years in practice.
Evaluation and Referral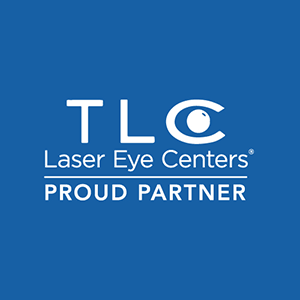 LASIK (laser assisted in situ keratomileusis) surgery uses the latest advancements in technology to provide faster recovery times and precise results. LASIK surgery has been effective in treating myopia, hyperopia, astigmatism and other eye conditions. At Dilzer Eye Care Associates, we provide evaluations and referrals for patients interested in LASIK surgery. Our doctors perform a complete review of your patient history as well as a full assessment of your eye health and vision. A current exam is important in determining if you are a candidate for LASIK surgery and if there are any other factors that may affect your results. The history review helps to determine if your prescription is stable and if you are healthy enough to consider surgery.
Once our doctors have performed the evaluation and determined whether you are a candidate for LASIK, you will be given a referral to the TLC surgery center nearby. The center will perform advanced diagnostic testing and will evaluate your eligibility for surgery. Various surgery options will be discussed with you if you are determined to be a surgical candidate. We will be in correspondence with the center regarding your evaluation and surgical determination. If you are considering LASIK surgery, call us at (540) 338-1833 to schedule a consultation.
Post-Operative Care
Once your surgery is scheduled, we will schedule follow-up appointments for you in our Purcellville office. Typically, you will begin these follow-ups the day after the surgery and continue at prearranged times over the following six months. Full exams are required to determine the long-term results of your procedure and to ensure your lifetime guarantee thru TLC. The optometrists at Dilzer Eye Care are experienced in working with patients pre- and post-surgically and are happy to answer any questions or concerns you may have along the way. If you have questions about LASIK or refractive surgery, call (540) 338-1833 to schedule a consultation.